Continuation, T1B, 1Tail, FF, SHS, bear CH, 1TL, fBO, mDB, DB, mDT, 1CHBO, LH MTR, BT
A lot of  Buying Pressure (Buyers on the close of the prior bar) in the bear CH from the HOD/SHS. But still, need to get out, if a MTR forms. Here a LH MTR.
We formed a nice RVB right at support (daily BT level – blue circle) for a nice move into the close and a test of the OOD. It became the LOD.
E-mini S&P 500 Future 5 min chart (trend lines, arrows and boxed text drawn by hand)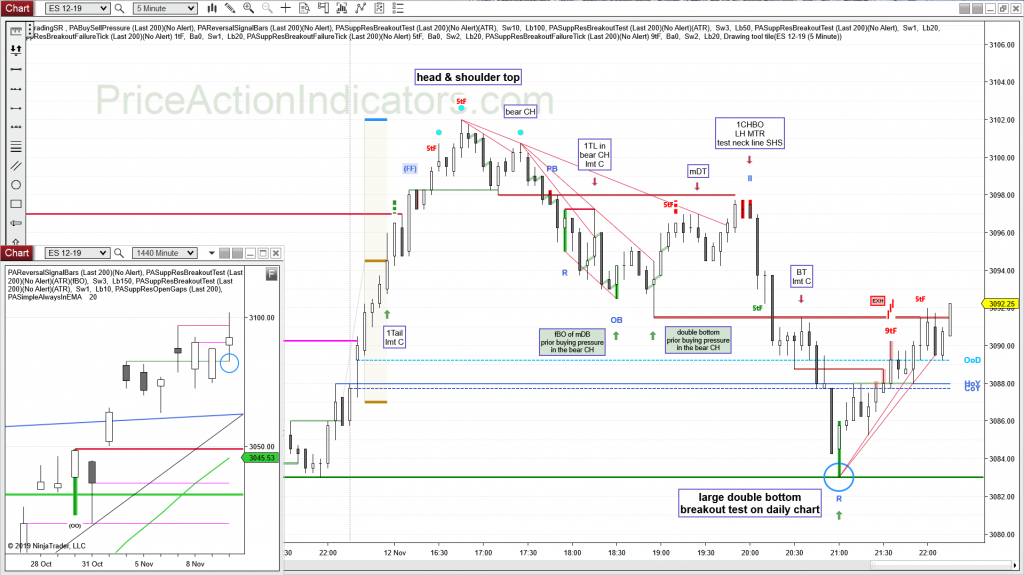 daily chart
Always In Long (AIL) since 10/10
we made it to 3100, weak Entry Bar for the H1 buy
Breakout test of the swing high from last week (blue circle)
Bears see 3rd push above the Trend Channel Line (blue line)
A lot of lines and comments on today's chart. Here is the "naked" version of it, with just the indicators applied.