Opening Ranges are important to a lot of traders because they often provide an indication of sentiment for the day's price action. 
The latest version of the Opening Range indicator just got an additional setting for showing the Price Action around important levels of the Opening Range.

If price is close to the High/Low or middle of the Opening Range Price Action at the corresponding support/resistance level can be highlighted. Pullbacks or Tails at these levels can be highlighted as well.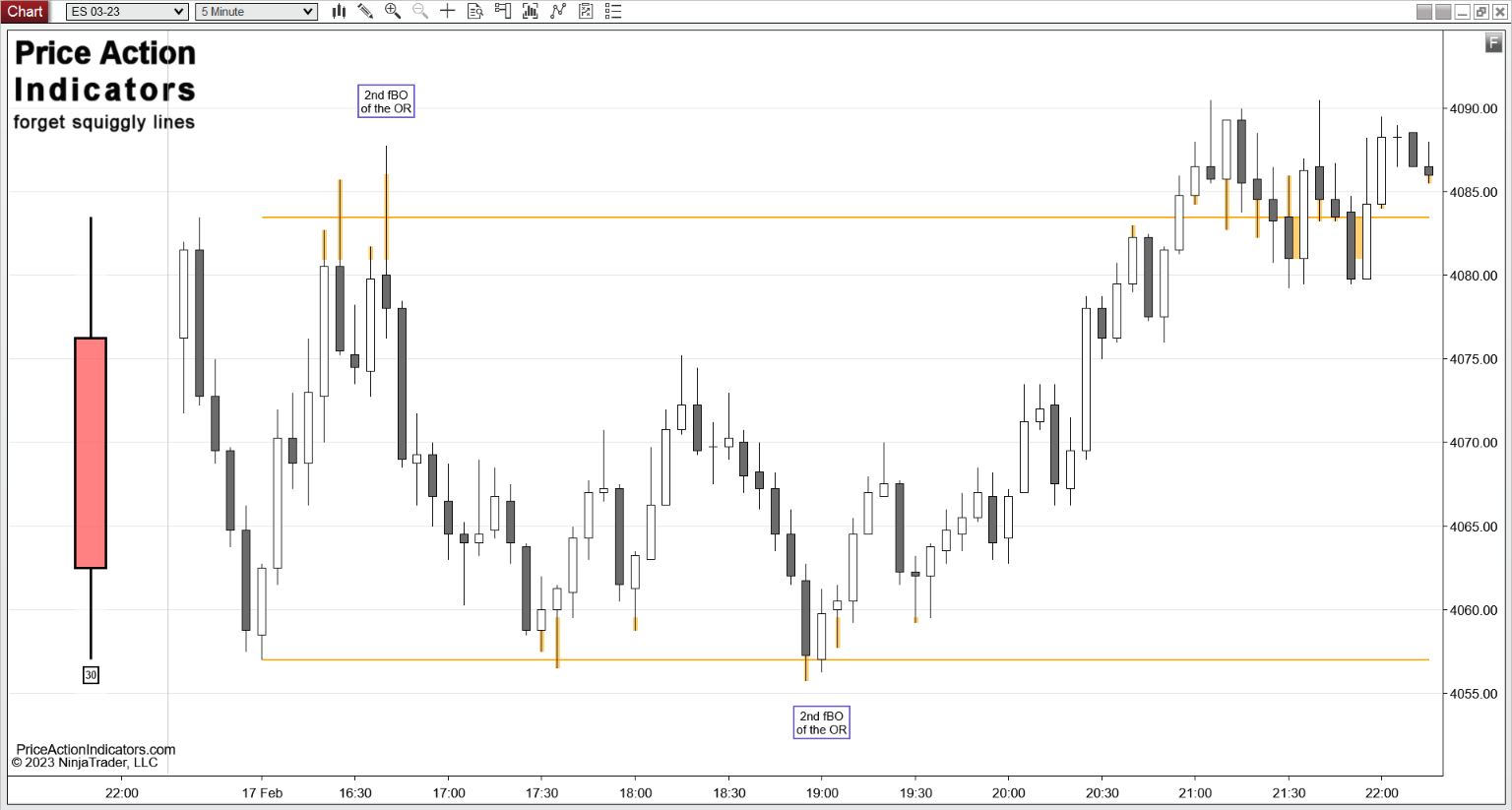 Read more on the indicator page.
The latest version of the S/R Day Trading SR Pro indicator just got an additional setting for showing the Open of Yesterday.
We also added a new signal for a possible reversal, a "Head Fake". These are strong breakout bars followed by a counter trend bar of similar size, which could indicate a failed breakout. Head fakes aren't necessarily Two Bar Reversals, since they can occur in overlapping price action. Often they also can be used to buy below or sell above a signal. A head fake can be a two or three bar signal.
Breakout bars now can be highlighted using rectangles instead of square markers.
Using a RTH chart, all existing signals (Breakout, Reversal Bar, Two Bar Reversal and Head Fake) are now calculated using the RTH as well as the Globex one hour open (using XX:30 AND XX:00 opens), regardless of the setting below. Only the Pullback signals still are using the setting below (using XX:30 OR XX:00 opens).

Read more on the indicator page.
The Buy Sell Pressure indicator just got a new four bar signal. Exhaustion during a pullback with two or more Buyers/Sellers on Open signals.
Read more on the indicator page.
Simple AlwaysIn EMA
(free Price Action Indicator)
The Simple AlwaysIn EMA indicator now switches from Always In Long/Short to Trading Range much more quickly using these three scenarios:
Three bar breakout above/below EMA
Breakout above/below EMA and close above/below last several bars
Bull/bear gap and trend attempt at the open of the day
Download Free Price Action Indicators
---
Please, always download the latest version of the Price Action Indicators from the Download page.  Read here how to Update Price Action Indicators.
If you already had a trial of our indicators and want to check them out again, just drop us an email with your NinjaTrader Machine ID and we set you up for a another trial.
Please contact us, if you have any questions.