Bear gap, mid range, Opening Range, 1fBO, bull MC, 1CHBO, WfBO, 1P, XT, HL MTR, 2E
Bar 2 and 3 look like a strong trend attempt, but think twice.
An Outside Bar is a Trading Range Bar, especially mid range of the prior day. Bar 1 was a Reversal Bar (although weak), that triggered long, so we would expect BB. Also yesterday is a Trend Bar and a Bull Signal Bar on the daily chart and we can expect Brs at the various Fibonacci levels. Bar 4 was at the 50% retrace of yesterday's range, the bar 1 low was just above the 38% retrace.
Also check out this post about the open.
E-mini S&P 500 Future 5 min chart (trend lines, arrows and boxed text drawn by hand)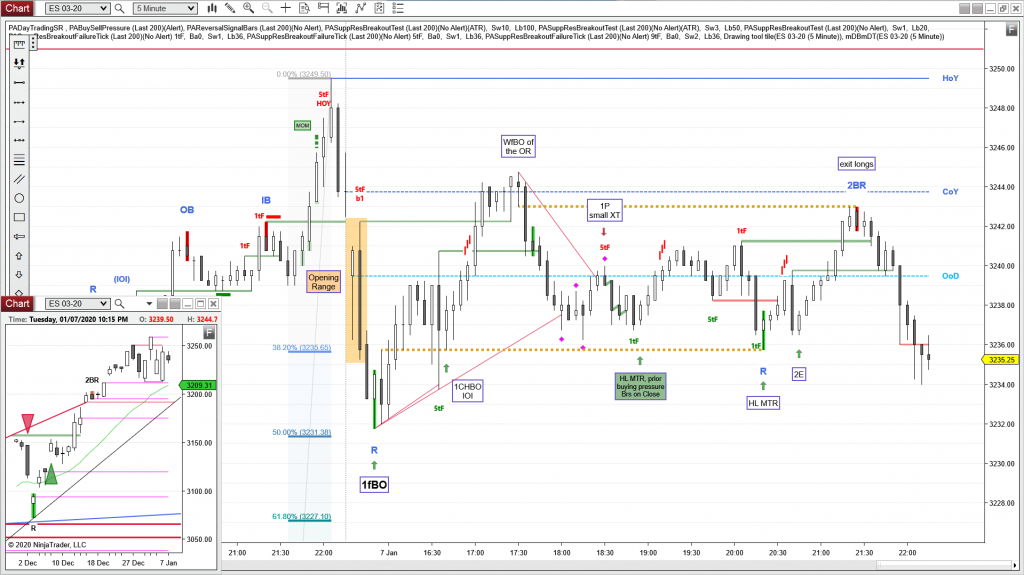 daily chart
Always In Long (AIL) since 12/06 – one month!!

Bear Inside Bar, Signal Bar for a SE short tomorrow
some bears might see a poss. small head & shoulder (SHS) with 12/27
Here is the "naked" version of today's chart, with just the indicators applied.